ChefWave Secco Pro Food Dehydrator with 6 Drying Racks (Stainless Steel)
Brand New in Original Packaging
SKU: CW-FD06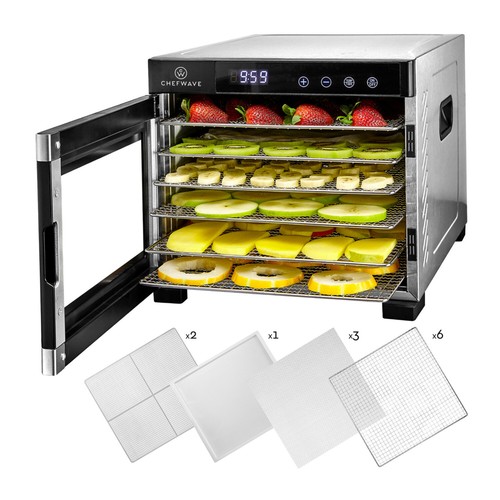 Create perfectly dried foods in your own home kitchen
Transparent door for easy monitoring
360° air flow with adjustable time and temperature
Digital control panel
FDA and ETL approved
Use it to dry fruits, vegetables, meats, herbs, nuts, and crackers
Six stainless steel racks
Non-stick mesh and Teflon sheets work with the steel racks
Invest in your health! With the ChefWave Secco Pro Food Dehydrator you can create perfectly dried foods in your own home kitchen. Now you can easily make nutrient-rich snacks with this countertop dehydrator. Dried fruits and vegetables retain almost all their nutritional value when they're dehydrated. Along with being a healthier choice, dried snacks are more cost-effective than store-bought treats. A stainless steel body lends it a sleek finish that pairs well with modern cooking devices.
Benefits & Features
The Chefwave Food Dehydrator has a transparent door for easy monitoring. It features 360° air flow, and adjustable time and temperature with automatic shutoff. The dehydrator reaches up to 167°F, and has a clear digital control panel. The Chefwave Dehydrator is FDA & ETL approved.
Good for Your Health & Your Wealth
Are you tired of throwing out produce that's already gone bad? This air dehydrator is a sustainable solution. Save money and time when you dry out your fruits and veggies. Dehydrated foods last longer and don't need to be refrigerator.
Make a Variety of Delicious Snacks and Treats
Making fresh snacks and cooking or baking ingredients is easy and with so many possibilities you can get really creative. Use it to make dried fruit snacks like pineapple, bananas, raisins and dates. Then mix it up with some nuts and make your own trail mix or granola. You can even use it to make your own fruit leather, and dry vegetables, meats, herbs, nuts, and crackers. Make potato chips or banana chips. It comes with perforated, non-stick mesh and Teflon sheets that work with the steel racks so you can dry wet textures of foods. The stainless steel trays are BPA free.
1 Year Warranty
We want to ensure that you're fully satisfied with our products. With the ChefWave 12 month fail-safe warranty, we guarantee that it will work exactly as it should. This warranty covers parts and labor so that you can enjoy using it worry free!
Chefwave Secco Pro Food Dehydrator
6 Stainless Steel Racks
1 Drip Tray
2 Mesh Sheets
3 Teflon Sheets
Recipe Book
1 Year Warranty
ChefWave Secco Pro Food Dehydrator with 6 Drying Racks (Stainless Steel)
Dimensions: 13.5W x 11.5H x 21.25D
Racks: 13 x 12
Material: Stainless steel
Wattage: 600 Watt
Shipping for this item is free in the Continental US Lower 48 states only. Shipping Fees include all handling & insurance.
For Domestic Shipping to the Lower 48 States: All shipping prices include shipping, handling and insurance (if necessary).
For Domestic Shipping to Alaska, Hawaii, Puerto Rico, US Territories, APO & FPO: For many items to these destinations there will be an additional shipping fee. The shipping costs may be calculated on the Shipping and Payments tab by entering your Zip Code. Free shipping is for the lower 48 only
For International Shipments: All international orders are managed through eBay's Global Shipping Program. Please see the Shipping Tab for full costs.
Hotels: Unfortunately at this time we do not ship to hotels.
Tax:
Sales tax will be collected on all orders shipped to NY and NJ
Paypal: PayPal is our preferred method of payment for all of our eBay sales. For customer service please contact us through eBay Messages
Immediate payment via PayPal is required for all Buy It Now items. For all Best Offers, payment is required within 3 days. If you need special arrangements, please contact us through eBay messages. After your order has been shipped, you will receive an e-mail with the name of the carrier and the tracking number.
Returns are permitted if you are not satisfied with your purchase and must be initiated by the buyer within 30 days from delivery date.
For Domestic Purchases:
If you are not satisfied with your purchase, you may return it (see exceptions in Paragraph F below), within 30 days of receipt, for a refund or replacement - subject to the following:
a) Contact us through eBay messages or the returns link to receive a Returned Merchandise Authorization (RMA) number to ensure proper handling of the return and/or replacement.
b) In order to be eligible for a full refund, less shipping expenses, your returned merchandise must be in its original new condition, as shipped, with all packaging, manuals, and paperwork intact and unaltered. Items which have been opened are returnable, however they will carry a restocking fee.
c) Customers remain responsible for the shipping and handling expenses incurred in shipping the item to them. If an item is offered with "Free Shipping," this means we are paying the freight on your behalf. If that product is returned for a refund, the shipping expenses incurred, will be deducted from the refund. If an item is refused, the carrier bills us for shipping both ways, and these expenses incurred on your behalf need to be deducted from your refund
d) All returns are subject to inspection. Products returned must be in brand new condition, as per Paragraph b), if not, it may be deemed non-refundable or will be subject to at least a 15% restocking fee. If your return is missing accessory components, or shows signs of wear - restocking fees will be higher. For specific restocking fees that may be applicable to your return, please contact us through eBay messages.
e) Returns should be packed in an outer shipping carton, not just the original box/packing of the product. The RMA# should be clearly inscribed on the shipping label. A copy of your invoice and Order # should be included, and your return should be insured, with shipping costs pre-paid. We cannot accept any COD shipments.
f) There are product categories which are not returnable due to hygienic or sanitary as required by manufacturers. If your items is a consumable good or is has been locked by a manufacturer such as Apple or HP the return will not be accepted
For Warranty information, merchandise lost / any other issues in transit, or order cancellations, please contact us through eBay Messages. In an event where there is an error regarding a price error or description, we will notify you ASAP. In this event there will be no obligation to proceed with the purchase. Any amount charged to the customer will be 100% refunded.
For International Purchases:
Returns will be accepted within 30 days of the receipt of the item. In order to be eligible for a refund your returned merchandise must be in its original unopened condition, as shipped, with all packaging, manuals, and paperwork intact and unaltered. Items removed from their 'blister-pack' display packaging are non-refundable. 
International Buyers must pay return shipping via the same method originally shipped.